Until recently I thought that Peeps had a pretty limited purpose. These marshmallowy munchkins usually make an appearance for holidays such as Halloween, Christmas, and Easter. However, much to my surprise and delight, these little critters are making a commotion and pushing the stereotypical, peep perception. I am proud to present a collection of the most creative, most fantastical, most unique Peep dinoramic debuts!! Enjoy!!

There are no words for this one!!!


Peep Olympics


Monty Peeptons Flying Circus

By far one of my favorites! An homage to Super Mario


Love love love this one!!! Peep's take on UP!



The Peeps of Wrath



The Peep-sons-LMAO


A precious nod to my favoritest book, "Goodnight Moon"
 
Peepsalot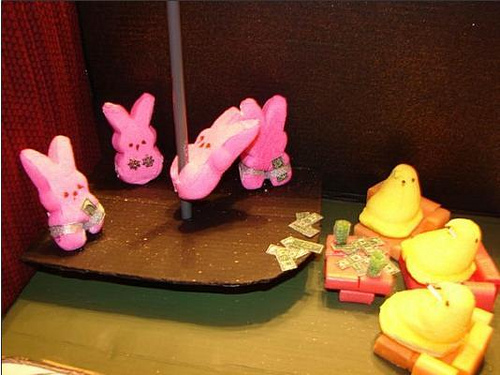 A True "Peep Show"
And my absolute favoritest!!!!!